This High-Pressure Garden Hose Nozzle is perfect for quickly and easily water your plants. The high-pressure direct spray ensures that your plants get the water they need, while the adjustable pressure allows you to customize the flow depending on your needs. The quick connector makes it easy to attach and detach from your garden hose, and the brass construction ensures durability.

The Hydro Jet™ is an amazing, all-new spray nozzle attachment that turns your ordinary water hose into a high-pressure power washer. Bulky pressure washers are expensive, heavy, and use gas or electricity. The Hydro Jet™'s clever design uses a controlled flow to build a powerful jet stream right from your garden hose. The Hydro Jet™ Jet Nozzle is your easy, economical solution for tough outdoor problems.
Transforms your ordinary water hose into a high-pressure power washer
Remove built-up dirt and mold on wood, aluminum siding, or concrete foundations
Easily wash your car, truck, camper, or boat and tackle dirty wheels and rims
Blast weeds and grime from brick and concrete patios, pool decks, and driveways
Safely reach second-story windows and remove wasp nests from a distance

Why do I need a high-pressure hose nozzle?
A high-pressure hose nozzle is a tool that homeowners and professionals often use to clean surfaces. This type of nozzle has a large and strong stream of water that can be used to clean delicate or large surfaces quickly. The high-pressure stream of water can also be used to remove dirt, dust, and other debris from areas that are difficult to reach with regular cleaning tools.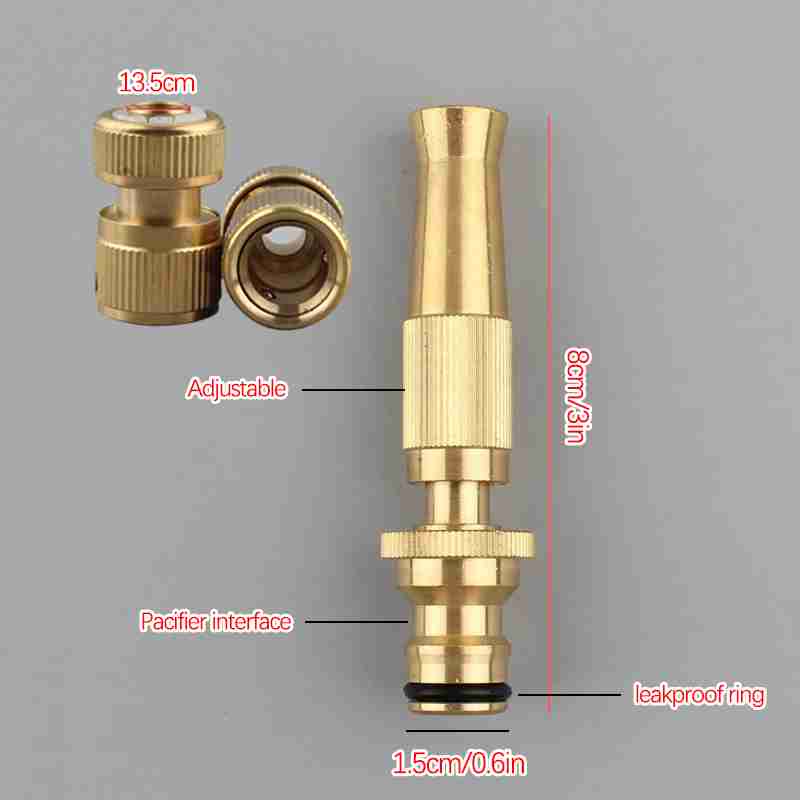 Specification:
Product name: high-pressure water guns
Spraying distance: 5-10 (m)
Color: aluminum alloy(yellow)
Water pressure: About 10kg
Spray distance: About 10m
Connector: 13 mm Straight connector
Use form: soft grip
type: Blaster syringe
Feature: Variable Flow Controls, Variable Spray Patterns, Soft Grip
Scope of application: vehicle cleaning, home cleaning, watering, window cleaning, garden irrigation…
Package includes
1 * High-Pressure Garden Hose Nozzle Set
Frequently asked questions
What technique can you use to extricate a hose nozzle that has been stuck?
Use a vise grip on the hose end and grip firmly, but not too tightly, as the pipe could become deformed. Adapter your hands on the fitting and twist counterclockwise. If the fitting doesn't unstick, repeat the procedure with another set of pliers on the fitting, turning it counterclockwise to loosen it.
How can you clean a nozzle of a hose?
Clean both the inside of the high-pressure water hose nozzle, including the threads and the hose fitting. Light dirt can be rinsed off. To remove dirt or debris that is still firmly lodged in the hose, use a stiff brush or a toothbrush with old bristles.
Are the products shipped for free?
We are proud to ship all of our products free worldwide!