Transform your regular garden hose into a powerful, jet pressure stream. The Hydro Jet High Pressure Power Washer is the perfect cleaning tool for washing muddy sidewalks, grimy wooden fences, moldy brick walls, dirty cars, and much more. It can even clean second story windows, while you're standing safely on the ground! 
If you want a powerful machine that will work according to your expectations, then consider buying this Hydro Jet™ High Pressure Power Washer. High-Pressure Power Washer Wand connects to any standard 3/4″ garden hose (and other sizes with standard 1″ female hose bib connectors), or maybe used with a powered pressure washer system using the included adapter. It has a useful and powerful bronzer jet for easy cleaning of driveways, cars, and gutters with less ease. This wand is 39 inches in length to allow you to wash tight and hard to reach places.
Hydro Jet™ Power Washer​ has two nozzles built for different water flows. More so, it has a fan spray and a jet stream to make easy spraying. By the way, this specific model allows you to have a perfect spray pattern. You can use a fanned spray if you want to cover large areas, or you can use a jet stream when spraying areas that require thorough cleaning. Additionally, many people have fallen in love with this Hydro Jet™ Power Washer​ as it is water pressure related — no need for electrical power to work.
Hydro Jet™ Power Washer​washer wand suitable for connecting all 3/4" standard garden hoses, and other sizes with standard 1" hose connectors.
This Power Washer​ is a normal water hose sprayer and easy to connect to your hose.
You connect directly to our power jet connector to your hose connector.
If your hose has a quick release connector, you screw our quick release connector onto our power jet connector and push it into your quick-release connector. It is easy to peel off and take on.
Color: Blue, Orange, Black, Yellow, Green
Material: Aluminum alloy (Tube), Copper (Ball valve), TPR (Handle)
Size: 46.5 x 2.6 x 2.6 cm/ 18.3 x 1.02 inch (L x W x H)
Spraying distance: 15m
1x Hydro Jet High-Pressure Power Washer
1x Connector for Power Washer
1 x Fan Nozzle
1 x Jet Nozzle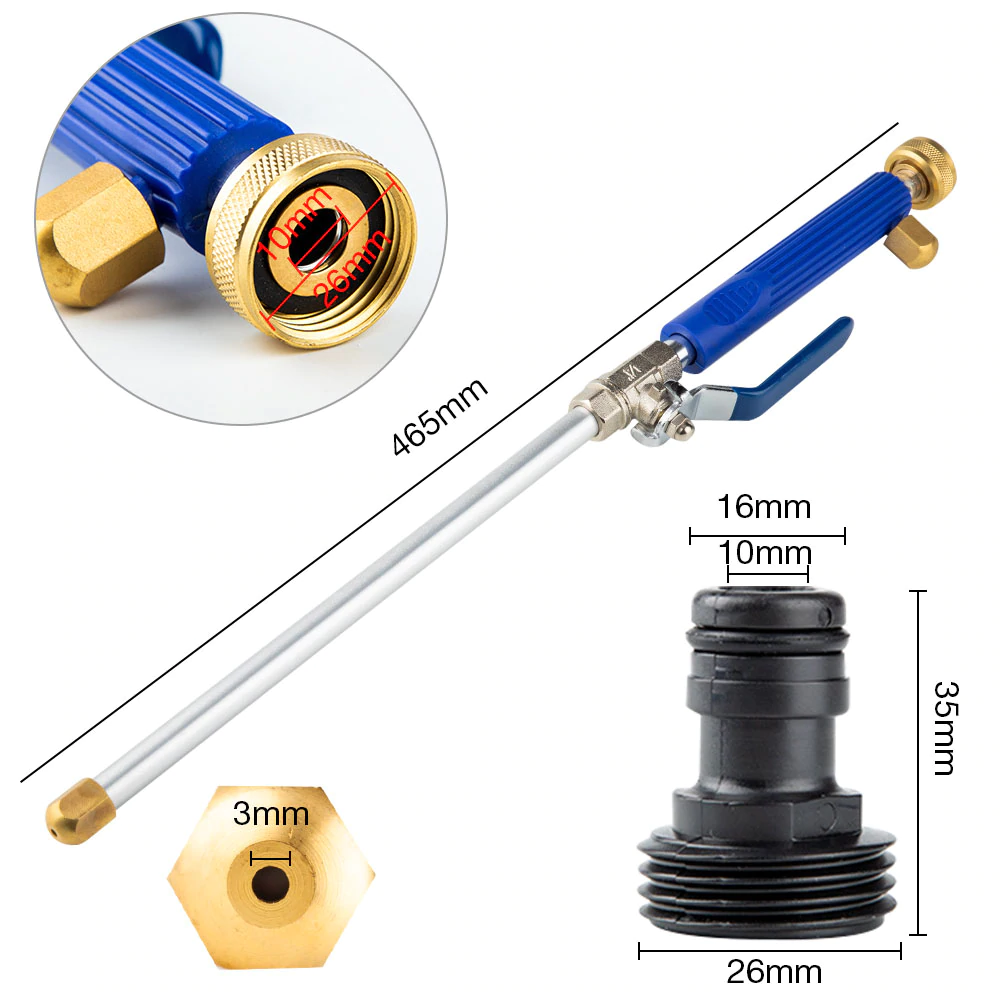 How To Use Hydro Jet Power Washer
Frequently Asked Questions